Yeah, yeah, it's Christmas morning, and my dad and I are watching Robocop together in the kitchen as we wait for my always-punctual sister *cough* to arrive for gifting. So, I'd like to take this chance to be [possibly] the ONLY blogger of the non-Judaic sect to post. I'm a bit late on this one, but since there's a shortage of press releases around the holidays as bands, publicists, and the general peeps are opening gifts, here is a non-fat treat for you.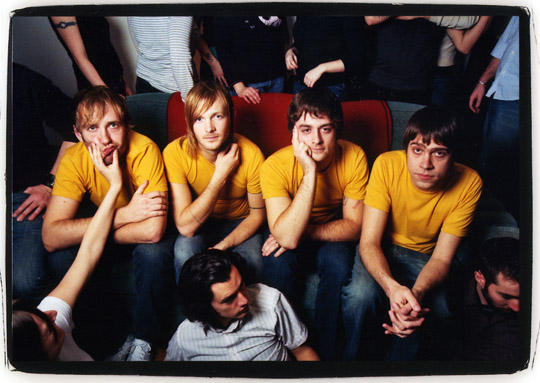 Minus The Bear. One of my all-time favorite bands whose earlier albums hold one of the strongest associations of sentimentality and ex-loves. In 2006, I saw them perform several times over, anywhere from Axis on Landsdowne to on their very own Seattle streets during the Capitol Hill Block Party.
Minus The Bizzle @ Bamboozle, Nueva Jersey.
Most bands would call it a day and rest up until the December rain cleared, but the Seattle troup have one more surprise up their sleeves: due out February 20th,
Interpretacions Del Oso
finds 11 artists reinterpretating
Menos El Oso
including Dalek, Battles (Tyondai Braxton), Alias, P.O.S., Fog, Jay Clark (Pretty Grils Make Graves), Dark Baby, IQU. And with its release the band will - for at least a moment - sit still and soak up what has been a stellar year...to say the least.
El Tracklist-o para Interpretacions Del Oso
1. Drilling - P.O.S.
2. Memphis & 53rd - FOG
3. Fulfill the Dream - Tyondai Braxton
4. This Ain't A Surfin' Movie - IQU
5. The Fix - Plan B
6. Hooray - Dark Baby (Yuuki Matthews of Crystal Skulls)
7. The Game Needed Me - The Oktopus (Dalek)
8. Pachuca Sunrise - Alias
9. Michio's Death Drive - Michio
10. El Torrente - J. Clark (Jay Clark of Pretty Girls Make Graves)
11. The Pig War - O, Hunter (Morgan Henderson of Blood Brothers)
Audible:
Minus The Bear - "Drilling (P.O.S. Mix)"
Video:
Minus The Bear - "Pachuca Sunrise"
Website:
http://http://www.minusthebear.com