With
Howl
, fans of Black Rebel Motorcycle Club were a bit turned off by the slower-paced songs that filled the tracks. It took a bit of time and effort to get into the record if you loved their self-titled debut that exploded them out to Jesus & Mary Chain devotees and mellow rockabilly fans everywhere. Immediately accepted into the indie realm while being on a major label, BRMC delivered.
I'm going to take a moment and say this: BRMC's wave of popularity reminds me of Bush, in a way, because of the misunderstood sophomore effort.
Take Them On, On Your Own
is very much a
Razorblade Suitcase
in that some records may take days, weeks, months to understand - this is one that the beauty may take a few years. Fans of the genres history are more likely to latch on earlier.
Nevertheless, Black Rebel has returned with
Baby81
. After a stunning performance at the Avalon last year, they'll be at Avalon in late May with The Horrors, and chances of them one-upping themselves are high. Years ago, my first BRMC live experience was religious, and with no pun intended it was the encore of "Salvation," in its entirety, that nearly brought me to my knees in devotion for a band whose debut record solidified its place in my all-time Top 10 records. They were opening for Spiritualized at Manhattan's Beacon Theater, but due to complications they took the stage later than planned and were only allowed four songs. Virgin honored all tickets, and booked an encore performance for BRMC in Brooklyn's Warsaw weeks later without an opener. With only one album and a handful of B-Sides out, BRMC played with everything they had, having no props, lighting, or distractions to add to their performance.
Baby81
is a strong return to that confident songwriting, but with the noted maturity of a band that has been through three albums, countless tours, and internal conflicts that come with being in a band - a relationship often tighter and tougher than romantic one-on-ones or, hell, even blood family.
Years ago, BRMC couldn't have written a song like "Need Some Air," which sounds perfected to surpass any sort of classification of pop, rock, and art/dance-rock. The single, "Weapon Of Choice" proves their ability to write lyrics and melodies that implant themselves in your memory, getting stuck like a skipping record as you go through your day humming, "I won't waste my! I won't waste my! I won't waste my loooove on a nation!" If there could be any apex, though, my current thoughts are "All You Do Is Talk," which reminisces the beauty of "Red Eyes And Tears" from
B.R.M.C.
.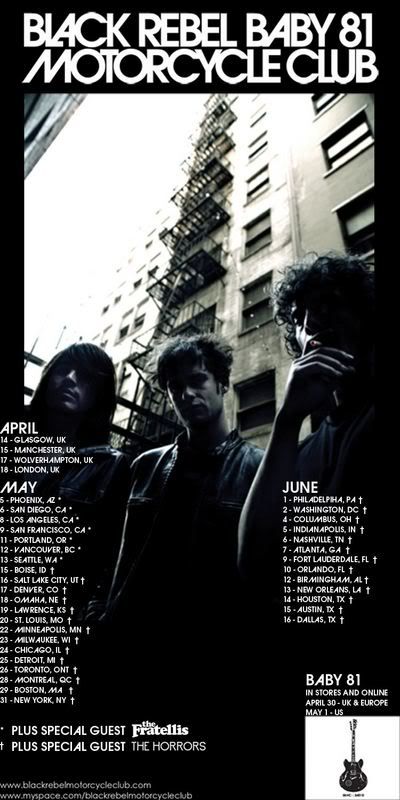 Audible:
BRMC - "Weapon Of Choice"
(yoinked!)
MySpace:
http://www.myspace.com/blackrebelmotorcycleclub
Website:
http://www.blackrebelmotorcycleclub.com