On a very serious note...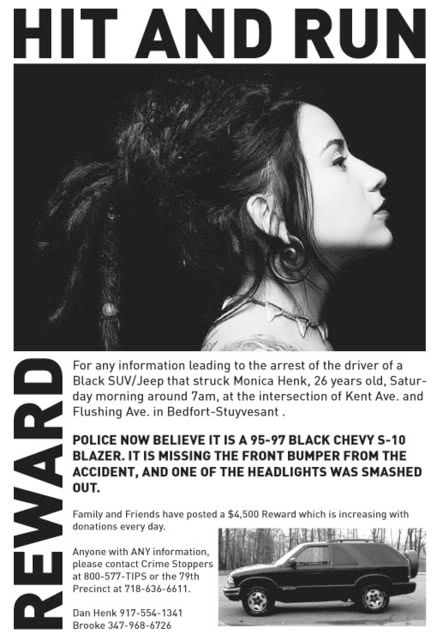 I first heard of this around the time of Monica's initial hospitalization. I met her back in 2001 through a friend and co-worker of hers. She ended up doing several works on me including my first tattoo and some piercings. It was not only my first tattoo, but one that bears a special meaning to me, and I'd wanted
her
to do it specifically.
I know that there's the "halo effect" of kind words that often occur when someone is killed or dies tragically, but without adding any exaggeration I say that Monica Henk was, by far, one of the most stand-out people I've ever met. The small collection of times I've spent with her, whether it was at a tattoo studio, her apartment, or bumping into her at a show, she's always seemed to nail down the formula of having the smile, laugh, and attitude of a big kid while projecting some sort of ahead-of-everyone's-time maturity. She was a
woman
, despite the fact that she was obscenely short when she stood next to me. She was as adorable as she was tough as nails, and definitely is the first and last person I'll ever let shove a 12g needle through my cartilage! Nonetheless, Monica remained a solid acquaintance after I left New York. She never hesitated to give me hugs when she saw me, and the last I'd heard was her move from a Manhattan studio to a Brooklyn one, where we briefly discussed designing another piece for me. I can still remember her laugh, and how goddamn hard she punched for such a tiny little lady.
With all of that said, there's much more information about the funeral service's on her husband's website, but it's also good to hear that the reward for this hit-and-run driver has gone up to $20,000, has 5 detectives on the case, and has become a high-profile investigation. Hopefully, justice will be served.
My regards to Dan Henk and all of Monica's family.
Website:
http://www.danhenk.com