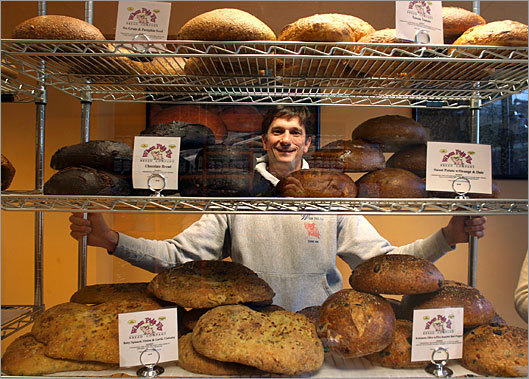 Walking the dog around Davis Square, we stumbled upon a When Pigs Fly retail location. A big fan of the bread in the on-going, late-twenties quest to "eat right, drink less," WPF is pegged as a good brand to start with the breads.
The location on Highland Avenue in Somerville has been open for nearly a year now, and is housed right next to Kickass Cupcakes, who've also made such a treat as hip to Bostonians as Magnolia did in the downtown Manhattan.
This morning was a special trip just to go over there and acquire some freshly made breads, but the comment "we have them delivered to us fresh every morning, so, you know, the bread is never...stale," made us blink twice. Is there not a bakery in the back? Also, why are the loaves $5? It feels a bit foolish paying $3.99 at Whole Foods or other stores at times, but $5?
Leaving with the six grain & pumpkin seed loaf, we walked away feeling we might not come back. The bread would have to speak for itself, and our expectations were high! Wanting to support local business is a forte, but is it worth it?
The answer is
YES
. Bread seems like such a simple thing to overlook, but it makes up a lot of our day-to-day eats (unless you're a brainwashed anti-carb freak, sorry). How do you feel when you use Suave's $1 shampoo versus something delicious from the Body Shop? A bit of a difference, eh? The six grain & pumpkin had been bought from WF and Stop & Shop countless amounts of times, and the incredible difference it made today is worthy of a blog post. From hereonin, it will be worthwhile to
only
acquire breads straight from their stores, and the 10 minute walk is well worth the mini-sweat.
More history:
Boston Globe - Where hard work equals loafing