I'm running over to Harvard's Free Culture Conference, the second in the annual event, whose premiere took place in New York City in 2006. If you don't live in Boston, too bad. If you don't know about it, you should go. And if you're reading this after Saturday with a wicked hangover and a mysterious stranger still sleeping in your bed...be jealous.
Free Culture Conference
Before I run out, though, I want to mention Gui Boratto's new record,
Chromophobia
. Out on Kompakt (*gush*), Gui has been gaining popularity at lightning speed since the magnetism of Michael Mayer's Supermayer mix of "Like You" - from Kompakt's
TOTAL 7
comp - has been...overheard playing at Urban Outfitters.
Click photo to read Nick Sylvester's article on Gui Boratto.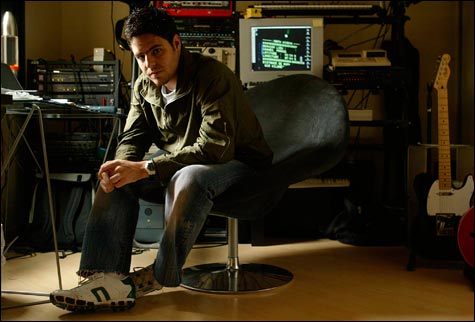 Click photo to read Nick Sylvester's article on Gui Boratto.
This new release is not for beginners. Plenty of people who are averse to techno are still scratching their heads and going WTF at the spins of "Beautiful Life" or "Mr. Decay" - the latter which is simply a gorgeous and quasi-epic electronic piece. Recently, Boratto released a 12"
Remixe
(part 1 of ?...apparently) which featured The Field's mix of "Hera," and an addictive "disco" mix of "Mr. Decay" by Robert Babicz.
I'm off to be free...in a sense. Enjoy the beautiful weather, Bostonia and beyond.
Audible:
Gui Boratto - "Mr. Decay (Robert Babicz Disco Mix)"
Kompakt MySpace:
http://www.myspace.com/kompakt
you can hear the "hera" mix here.